About ApSeed What's a Seedling?
What's a Seedling touchpad?
ApSeed helps at-risk preschool learners have fun while they learn with the Seedling. It's a custom-built touchpad proven to boost kindergarten readiness. Here's what makes the Seedling so unique:
They are pre-loaded with state board-approved educational apps
The apps feature games designed specifically to help preschool-aged children prepare for kindergarten
These touchpads do not connect to the internet and they don't have a camera – this makes them as safe as possible for young learners
Children have a great time learning while playing -- their families, caregivers, and ApSeed teams get to enjoy the add-on activities in the Readiness Kit to keep up the momentum as the kids learn:
letters and sounds
numbers
shapes
colors and more!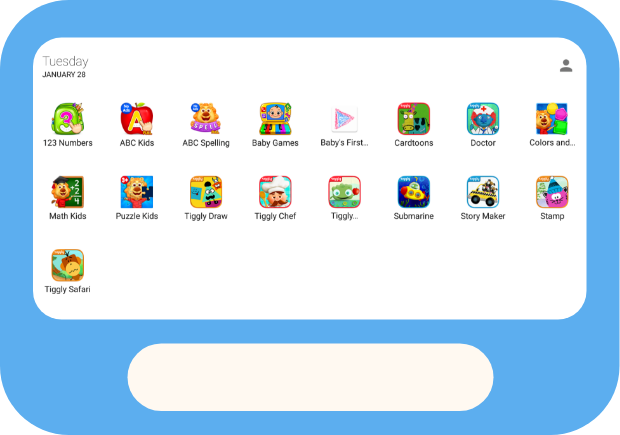 At ApSeed, we create and distribute the Seedling – free of charge – to any young learner, but especially to those in federally-sponsored Pre-K, Title 1, and Head Start programs or who are served by the WIC (Women, Infants, and Children) supplemental nutrition program.
A Readiness Kit is a backpack filled with supplies and tools to complement the Seedling. The Readiness Kit teaches skills not covered by the Seedling touchpad, such as scissor usage, building blocks, a book, and a whiteboard with markers.
From seed to sharing
ApSeed runs the entire Seedling production process, from manufacturing all the way to distribution:
Partners: A North Carolina-based nonprofit vocational program (Rowan Vocational Opportunities, Inc.) whose clients have intellectual and/or developmental disabilities. The Seedling project provides meaningful job readiness skills.
Partners: School superintendents, county health departments, ESL (English as a second language) staff, federal/state/local outreach programs, and the childcare community.
ApSeed trains the partner teams to manage day-to-day Seedling troubleshooting and maintain consistent use.
ApSeed provides Readiness Tutors on-site at ApSeed partner locations for coaching, evaluation, and teacher support.
ApSeed gathers non-identifiable data from partners and from families through automated outreach.
ApSeed supplements the Seedlings with Readiness Kits, containing fun activities and crafts to keep little hands busy and young minds active.
Plus, they send monthly text messages to caregivers with family-friendly ideas for engagement with the Seedling – and each other.
Help us plant more Seedlings
Learn more about ApSeed's impact and consider making a donation so ApSeed can continue to provide Seedlings at no cost to any and every child we can reach.